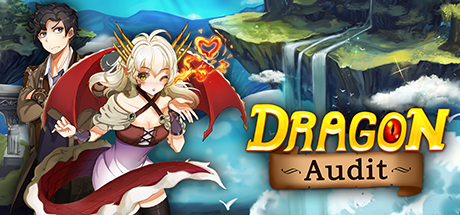 Dragon Audit Press Kit
Fact Sheet
Game Title: Dragon Audit
Description:
Dragon Audit is a hilarious adventure game following a brave battle accountant who storms the castle to rescue a princess, but unexpectedly rescues a lonely dragoness instead. This point & click-style adventure features anime-inspired 3D visuals and modern controller-friendly input.
In a world teeming with magic and danger, a city of accountants exists which has sequestered itself behind high walls and generally unacceptable accounting principles. A battle accountant there, George, is assigned the unenviable task of leaving the safety of the city in order to storm a nearby castle, slay the dragon, rescue the princess, and (most importantly) rescue the unpaid tax revenue. Meanwhile, Ayraw (the dragon), is tired of knights showing up to slay her, and is a bit jealous no one ever wants to rescue her. So she concocts a plan to trick George into rescuing her instead of rescuing the princess. Hijinks ensue as the two team up, the unlikely duo slowly growing closer through their shared adventure.
Genre: 3D Adventure
Game Status: Released on PC
Price: $9.99 for the game, or $14.99 for a bundle that includes bonus behind-the-scenes content.
Release Date: December 2020 (PC)
Platforms: PC, Nintendo Switch™, Sony PlayStation®4 (forward compatible with Sony PlayStation®5)
Game Website: DragonAudit.com
Assets
Game launch trailer: Shareable YouTube link or 1080p MP4 download (12mbit) or 4k MP4 download (45mbit)
Screenshots:
Key Art: Box Art / Splash, Misc art wallpapers, Transparent logo
Contact + Developer Background Info
Press Releases Issued: Announcement Press Release
Subscribe to Press Releases: Subscribe Page (check "Press Releases - ALL")
Contact Developer: PR@ArchiveEntertainment.com - Please contact me if you have any questions or would like to do an interview about the project!
Developer: Archive Entertainment
Developer Bio: Archive Entertainment is a small indie development team from Seattle, Washington. Archive Entertainment's prior title, 8BitMMO, is their most well known with over 900,000 registered users and major awards including Seattle Independent Game Competition Winner and at Tokyo Game Show's Sense of Wonder Night won the award for Best Technological Game. Archive hopes to have continued success with their new title, Dragon Audit.
Archive Entertainment was founded by Robby Zinchak. A thirteen-year industry veteran, he was previously a Producer at Microsoft, and has also led game creation at Capcom and Midway. He has been a full time indie for the last eight years, creating titles such as 8BitMMO and March of Industry. He is now leading development on Dragon Audit in Seattle.